The following is an excerpt from my forthcoming stageplay titled "The Sons of Job". Hopefully the local theater will see fit to accept it for their 2011 lineup. Any actors out there want to make an easy buck?
Job could be pronounced like what you do for work but it is really pronounced like the
biblical Job
(open 'o') whose life was upended by a spiteful Lord to prove Job's loyalty to a suspicious devil. It's a variation of my old rant that the Dali Lama is smiling because his life is actually pretty fucking easy. Let him go crimp wires for 10 hours a day and that'll wipe that smile off his fucking face. Here's the D.L. on another tough day of publicity photo shoots and talks about peace and other bullshit. How many ditches you dig today, Dali? What? I can't hear you with your mouth full of fine cuisine cooked by expert chefs...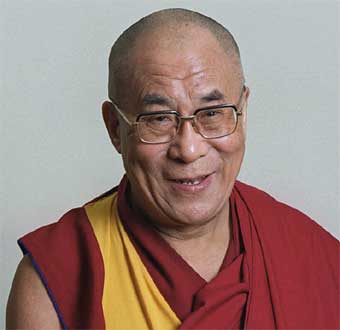 In the Book of Job the hero proves me wrong as he's beset by plagues and loss but remains devout. I'd like to see Dali Lama's thumb in a rack and see how he's smiling.
Anyway, this play was written as most of my work was written with absolutely no commercial objective in mind but an inspiration that would not quit. I did not see it as a movie or even as a play but I wanted to dramatize an average day of my life in Los Angeles. I got the work setting correct and am still working on the home life where rats as big as gophers ran through the rafters and I beat them back with a broom handle while puppies ran wild through the house and a housemate film editor snorted cocaine until he would wake me up rudely at 2 am and pay me to drive his 1970 convertible to Hollywood Park (he was shitfaced and had a suspended license) where he would play craps and I would cry over miracle aces that beat my pair of kings and we would drive back with stops at Del Taco and swerve through the mob of homeless people eating from the dumpster. IT was like a post apocalyptic landscape with gigantic LED billboards private leer jets landing at the Santa Monica airport for the "award season" and hookers and trash in the street and Thai donuts cooked in so delicious Cambodian baby fat . Anyway, that part is another subject. The place I would go for work was a depression era work camp that attracted the lowest of the low. I didn't do much work there but I watched and I listened and at night when the rats were calmly eating the poison crumb cakes we left out for them I would write it all down in sweaty fits of expulsion. In the morning I would become one of the Sons of Job:
EDWARD
Don't call me crazy! You don't know anything about me. You don't know my life and how I live. What do you know about anything?
I'm
the one being mistreated. I offer to decorate your office and you hardly acknowledge me. Now you can't wait to bring all the attention to me. And you presume to play the victim? What about
me
?
CHARLOTTE
Coach? You got an answer for me? He thinks he's the only one who has to take the test again?
EDWARD
Why are you announcing this to the world? I'm very hurt by all this. Hurt and disappointed. My skin is only so thick.
Coach stands up and approaches the desk.
COACH
I got ten or twenty wrong on that test. You just read for the answer and change it. See? You only got four choices.
EDWARD
(low volume)
They are making fun of me. Throwing my failure in my face.
COACH
Well, they
assholes
. You pay attention to every asshole you meet?
CHARLOTTE
That ain't helpin', Coach. I got paperwork and can't do this.
COACH
Look, take the safety pamphlet and the answer sheet and go correct your answer. No big deal. You fail that test and it's the best thing that happened to you all year. Don't have to work here and put up with this bullshit.
EDWARD
Must I be made to feel so
inadequate
? Must they bring my score to the attention of the whole world? This is exactly what happened in my classes at college. Pretentious professors lifting their egos on the shoulders of my humiliation.
COACH
You think any of us got dropped off by the driver in a long limousine?
EDWARD
I am the owner of a very successful business. I am
not
a failure.
COACH
(points to each person in turn)
Neither am I. Neither is Becker. Neither is Rubio. Neither is...well, Code Blue
is
worthless. But most of us doin' the best the lord allows.
CODE BLUE
Damn. That's some cold shit.
EDWARD
All I ask is some courtesy. Not an unreasonable request. Not at all.
There is silence as Edward reluctantly takes the answer sheet and safety pamphlet back to the desk. He is wounded and makes sure everyone sees it.
CHARLOTTE
One day is all I ask.
DON
Do they make all criminals go to San Diego?
CODE BLUE
What pipe you been smokin?
DON
If they can extract you to the work camps then they can make you do time in San Diego.
CODE BLUE
How the fuck do I know?
DON
I could learn to be a plumber. How can I get them papers? I need to move on!
CODE BLUE
You got to know someone in the union. That's the only way to make a living. You got to suck someone's dick.
DON
Suck someone's...have you?
CODE BLUE
Hell no. I got it all figured out. That's why I'm saving up my money to move out of the shelter.
DON
What are you gonna do?
CODE BLUE
I tell you and then you tell Becker and everyone's doing the same thing. Where that leave me? Fucked.
DON
I won't tell anyone.
CODE BLUE
I don't believe you. Code Blue is on his own.
BECKER
What about the golf course in West L.A.? The storm probably knocked some shit down. Fucking rich folks probably pissing their pants because they can't play golf.
RUBIO
They no call.
BECKER
So call
them
. Shit. You want me to call?
No
? So ask those cocksuckers if they need men.
RUBIO
I call them now then I am the asshole. Me.
BECKER
You the asshole no matter what, Rubio. At least you get us some work.
RUBIO
Alright. If I call you'll stop yelling at me?
BECKER
I'm here to work. This ain't no vacation. You think I want to spend my time talking to these assholes? I'll stop yelling at you when I get work. Just get me a ticket and I'll leave.
RUBIO
Then I call.
Rubio makes the phone call.
BECKER
Tired of this, Coach. No breakfast. No lunch. How's a man supposed to work? Spend a dollar to make a dime. Whose side are they on?
COACH
Not yours.
BECKER
(hushed)
Seriously, you think we could start something up. Sell something or do some work? Then we keep the dough. We do the hiring and the firing.
COACH
You need money to make money, Beck. What kind of operation you thinking about? Drugs? I can't sell drugs. The law hits hard. I go downtown and that's the end. No more steak. God's Law.
BECKER
Fuck drugs. That's a young man's hustle.
(as spoken to a drug supplier)
You front me some shit and then climb down on me when I don't produce? No. Bust my shine box for a dime bag? No. The drug hustle is straight fast food. Something else.